Install SimpleNote (Evernote Alternative) in Ubuntu
This post shows how to install SimpleNote in Ubuntu. SimpleNote is an Evernote Alternative. It is lite, open source and backups, syncing, sharing are completely free.
Features
History: drag the History slider to view previous versions.
Collaboration: share your note with others and allow them to edit.
Publishing: make your note public with its own URL.
Tags: organize your notes effectively with tags.
Pinning: pin notes right from the note list so they're easy to find.
Install SimpleNote
You can download SimpleNote deb file from the SimpleNote Official Website or from the GitHub Releases Page.
wget https://github.com/Automattic/simplenote-electron/releases/download/v1.0.8/simplenote-1.0.8.deb
sudo dpkg -i simplenote-1.0.8.deb
sudo apt-get install -f
Once it is installed, please login to the SimpleNote account and start using the app. If you don't have and an account with SimpleNote, sign up like below: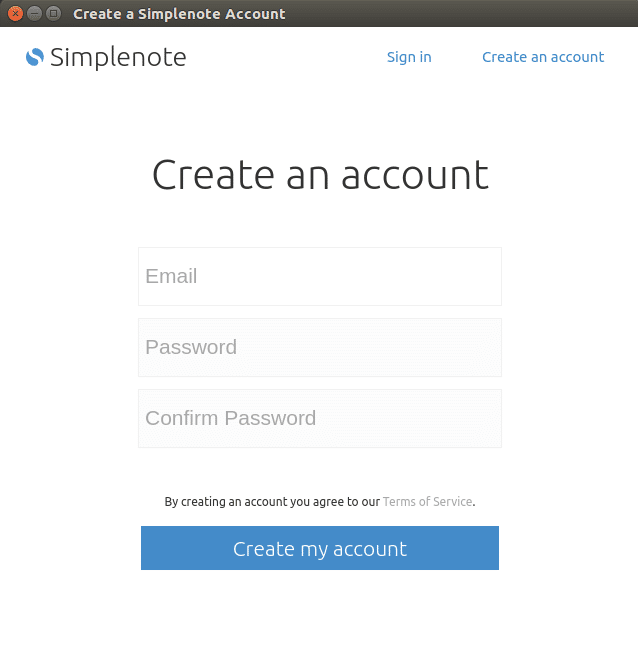 Uninstall SimpleNote (optional)
You can simply remove SimpleNote using the following command.
sudo apt-get remove --purge simplenote
That's it!
Also Read: Install NixNote (Evernote Client) in Ubuntu
If you like this post and wish to receive more articles from us, please like our FB page: Button
Your suggestions and feedbacks will encourage us and help to improve further, please feel free to write your comments.
For more details on our services, please drop us an E-mail at info@grepitout.com