How to install Resetter on Ubuntu
This post explains how to install Resetter on Ubuntu. Resetter is an application which is used to reset Ubuntu and Linux Mint OS to factory state.
Officially supported distros [64-bit]
Linux Mint 18.1

Linux Mint 18

Linux Mint 17.3

Ubuntu 17.04

Ubuntu 16.10

Ubuntu 16.04

Ubuntu 14.04

Elementary OS 0.4

Linux Deepin 15.4
The installation is pretty simple. Please check it below:
wget https://github.com/gaining/Resetter/releases/download/v1.0.2-stable/resetter_1.0.2-stable_all.deb
sudo dpkg -i resetter_1.0.2-stable_all.deb
Make sure that to run the following command to install the dependencies.
sudo apt install -f
The latest version of Resetter can be found here.
There are two options available on this App: Automatic Reset and Custom Reset. Custom Reset allows you to select the packages to uninstall and restore. Please compare the features list below: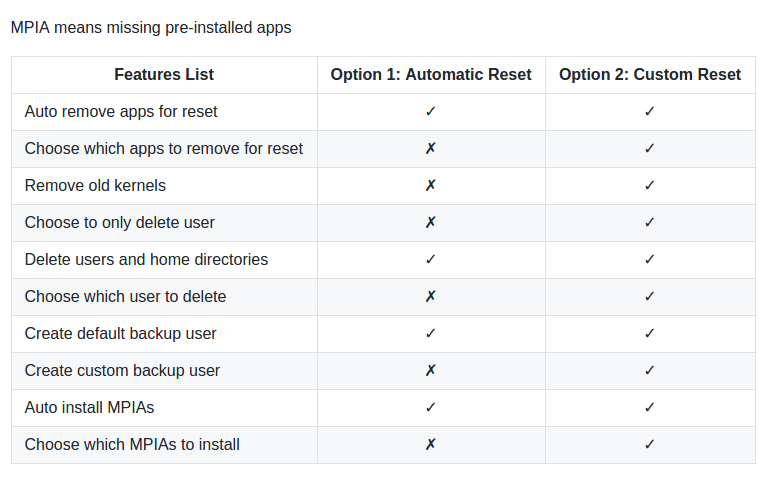 Uninstall
Uninstall Resetter with a single command:
sudo apt-get --purge remove resetter
This app doesn't delete files, folders and system caches and it also able to reset settings like wallpaper, system font etc.
That's it!
Also Read: Install Atom Text Editor in Ubuntu
If you like this post and wish to receive more articles from us, please like our FB page: Button
Your suggestions and feedbacks will encourage us and help to improve further, please feel free to write your comments.
For more details on our services, please drop us an E-mail at info@grepitout.com