Install Diodon Clipboard Manager on Ubuntu
This post explains how to install Diodon Clipboard Manager on Ubuntu. This package is available with the base repositories of Ubuntu. You can install it using the following command or directly by clicking the below button:
sudo apt-get install diodon
Note that the Diodon Clipboard Manager available with the Ubuntu base repositories are outdated. In some Ubuntu versions, this outdated version causes an issue with the system reboot. So, I would suggest you install the latest version of Diodon by adding PPA. Checkout out the project on launchpad https://launchpad.net/diodon.
Install using PPA:
The automatic updates are available with this method too.
sudo apt-add-repository ppa:diodon-team/stable
sudo apt-get update
sudo apt-get install diodon
If you are using Unity, install the following package.
sudo apt-get install unity-scope-diodon
You can now start the application by searching it on Ubuntu dash. Also, see the configuration window below: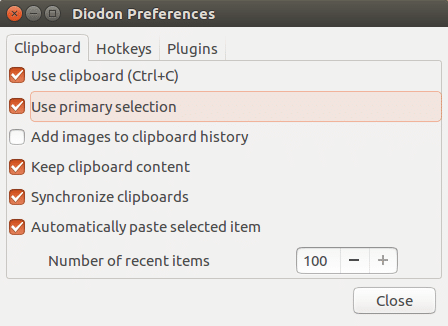 Uninstall Diodon:
You can remove Diodon using the following command:
sudo apt-get remove diodon
sudo apt-get remove unity-scope-diodon
If you have installed Diodon by adding PPA, run the following command to remove the PPA.
sudo add-apt-repository --remove ppa:diodon-team/stable
That's it!
Also Read: Install Facebook Messenger App on Ubuntu
If you like this post and wish to receive more articles from us, please like our FB page: GrepItOut
Your suggestions and feedbacks will encourage us and help to improve further, please feel free to write your comments.
For more details on our services, please drop us an E-mail at info@grepitout.com