How to update Plesk panel
This post explains how to update your Plesk panel to the latest version available. Before the update, make sure that you have taken a backup of the psa database as if anything goes wrong we won't be able to revert the changes without a backup.
Visit the link below to know about how to create a backup of the Plesk database and how to restore it.
https://grepitout.com/backup-restore-plesk-database/
1: Log in to your Plesk server and run the following command.
/usr/local/psa/admin/bin/autoinstaller
2: It will prompt you a screen of the Plesk installation and upgrade wizard.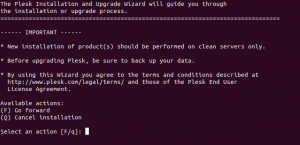 3: Type F to go forward.
4:On the next screen type 1 and press Enter to select the first option. The (*) symbol indicates the selected option.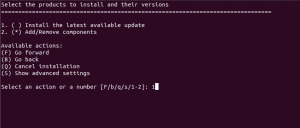 5: Now Type F to go forward.

6: If you see a warning in the next screen that there are one or more accounts with passwords encrypted using a deprecated algorithm, refer the link provided in the warning, execute the commands in the link to find out the accounts, and update the clients as their passwords will automatically change after the update.

7: Type y to continue.
8: The next screen will give you the details about the packages which need to be installed or upgraded.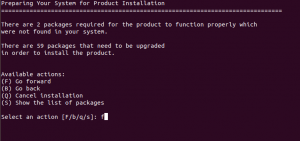 9: Type F to start the process and you will get a message when the update is complete.
Also read:
If you like the post Understanding top Command and wish to receive more articles from us, please like our FB page: GrepItOut
Your suggestions and feedbacks will encourage us and help to improve further, please feel free to write your comments. For more details on our services, please drop us an E-mail at info@grepitout.com