How to remove domain alias in Plesk
This post explains the steps to remove a domain or domain alias or subdomain in the Plesk panel. If the main domain of a subscription is removed, all additional domains under this subscription will be removed too.
1. Log in to your Plesk panel.
2. Click on Websites and Domains.
3. Select the Domains option under Websites and Domains.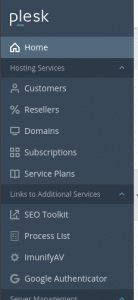 4. Select the domain you wish to remove and click Remove.

That's it!!!
Also read:
If you like the post Understanding top Command and wish to receive more articles from us, please like our FB page: GrepItOut
Your suggestions and feedbacks will encourage us and help to improve further, please feel free to write your comments. For more details on our services, please drop us an E-mail at info@grepitout.com