Enable shell access for a Plesk account
Here is a short guide to enable shell access for a Plesk account. To enable, you have to login to Plesk as administrator. If you are using shared hosting you have to contact your hosting company for enabling shell access.
After login, go to:
Domain > Select the domain for which shell access to be enabled > Click web hosting access > system user > Access to the server over SSH
Here you can find different shell from which we can select /bin/bash for shell access and click OK at the bottom.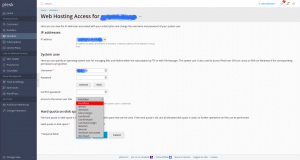 Now, you will be able to login via SSH using your favorite SSH programs such as Putty or Terminal.
Read More:
If you like the post Understanding top Command and wish to receive more articles from us, please like our FB page: GrepItOut
Your suggestions and feedbacks will encourage us and help to improve further, please feel free to write your comments. For more details on our services, please drop us an E-mail at info@grepitout.com