Enable DKIM/SPF in WHM/Cpanel
Here is a short guide to enable DKIM/SPF in WHM/Cpanel. We can enable DKIM/SPF globally server-wide through WHM and also per domain wise through Cpanel.
To enable server-wide,
Login to WHM and click the 'Enable DKIM/SPF Globally" and click proceed. The server will provision DKIM and SPF records for all accounts on the server as a background task.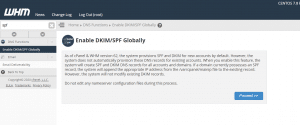 To enable domain wise,
Login to the cpanel account for which you want to enable SPF/DKIM records, click "Email Deliverability" under Email.

Select repair section to add default records. This option is unavailable if the system does not control the domain's DNS records.
Manage section next to repair button allows you to manually configure a domain's SPF/DKIM/PTR DNS records.
Enable DKIM/SPF in the command line? Go through the below link:
Enable DKIM and SPF for all accounts in cPanel
Also read:
If you like the post Understanding top Command and wish to receive more articles from us, please like our FB page: GrepItOut
Your suggestions and feedbacks will encourage us and help to improve further, please feel free to write your comments. For more details on our services, please drop us an E-mail at info@grepitout.com