cPanel & WHM Servers integrates ImunifyAV
cPanel is a market leader of automated hosting server solutions. They are now going to integrate ImunifyAV with cPanel & WHM Versions 82 or 84.
What is ImunifyAV?
ImunifyAV is a malware scanning solution which helps to keep your websites malware-free. It is a product from CloudLinux, a long term partner of cPanel.
This cPanel plugin comes with an overview panel which lists infected files and their status. ImunifyAV works perfectly with WordPress, Joomla, Drupal, and other PHP/HTML-based websites.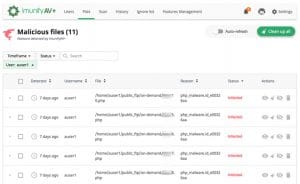 Nick Koston, cPanel's CEO said:
"We are very intentional with decisions to pre-install 3rd party products into our software, and we knew we could only have one security scanner. After working extensively with the Imunify Security development team and reviewing test results, we decided it was a tool we wanted to provide to all cPanel customers. The detection rates and product performance are superior to anything else we have seen."
This integration will be expected to release in the third quarter of 2019. Sign up for the cPanel Mailing List to get the updates.
Source: cPanel Blog
Also Read:

If you like the post Understanding top Command and wish to receive more articles from us, please like our FB page: GrepItOut
Your suggestions and feedbacks will encourage us and help to improve further, please feel free to write your comments.
For more details on our services, please drop us an E-mail at info@grepitout.com